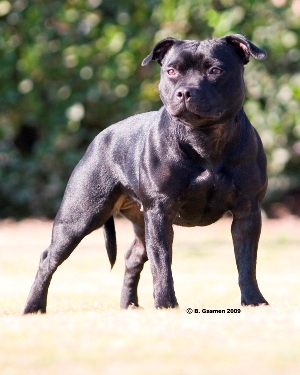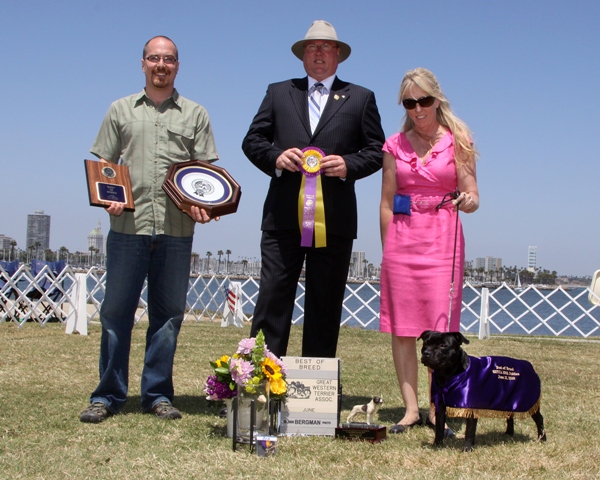 Multiple Best in Show Winning and Multiple Best In Specialty Show Winning
GOLD GCH Homebrewed Page Three Girl, RN, BN, TDI, CGC, TT-114-SBT
(Ch. Bowtman's Homebrewed Cellar Keep X Ch. Carnig Dot Com)
Top Winning Stafford In US History
2013 SBTCA National Specialty Top 20 Competition Winner
2013 SBTCA National Specialty Top 20 People's Choice Winner
2012 SBTCA National Specialty Winner
2012 SBTCA Top Stafford
2011 SBTCA Top Stafford
Only female in the history of the breed to be the AKC Top Stafford
First Black Brindle female to win an all breed Best in Show
First Stafford ever to win National Specialty, Westminster, Eukanuba, and Montgomery Terrier
Daphne's Unparalleled Record also includes:
7 All Breed Best In Shows, 1 All Terrier Best In Show, and 1 All Breed Reserve Best In Show
What The Judges Say
Critique from UK Breed Specialist, Colin Powell (Bowtman's)
"CH HOMEBREWED PAGE THREE GIRL, B/B, This one fits the standard perfectly, strong yet feminine, short and compact, but the key word here is balance. The first thing I noticed about this bitch was her coat condition, immaculate, second to none. Good pigmentation, nice dark eye and good ear placement, muzzle deep with correct bite, excellent well boned front of ample width, well padded feet, nice spring of rib, good angulation, hard and fit in very good condition, moved around the ring covering the ground with ease, a credit to her owners and a pleasure to award her Best of Breed."
Critique from UK Breed Specialist, Mr Paul Martin (Loyalstaff)
"Black/Brindle, cracking head, nice ears, good straight front, plenty of bone, short back, good topline, good back end, tidy feet, good pigmentation, a very worthy Best of Breed on this day."
Critique from UK Breed Specialist Mansel Frayne (Anselmo) Stafford Showdown

As soon as I saw her come into the ring I new that this was something special, a Beautiful Black Brindle Bitch, with a cracking shaped skull, well defined cheek bumps, nice eye shape, correct rose ears, strong neck on good strong shoulders, correct straight terrier front, nice barrel of rib with nice slim waistline, correct bend to stifle, level topline, moved as sweet as a nut, a great pleasure for me to go over this fine bitch, everything about her was in good order, handled well, it gave me great pleasure to maker her my BEST OF BREED.
Critique From Australian Breed Specialist Mr. David Lowe (Seighford) SBTCA 35yr Jubilee Specialty Show
"Ch Homebrewed Page Three Girl – 2 year old black brindle. A quality bitch that would held her own anywhere in the world. The thing that first took my notice was her wonderful head showing strength yet femininity. Clean strong muzzle with good bite. Excellent deep stop, great depth through the skull. Very well placed dark round eyes. Excellent rose ears carried perfectly finishing off wonderful expression. Good muscular neck on well laid shoulders. Ample bone, good feet. Excellent ribbing in all ways possible. One minor criticism would be a coupling just a whisker longer than I would have preferred, but level topline maintained at all times. Excellent angulation in the rear, very well set on and carried tail. Excellent mover, showing required drive in profile. Very well handled to BOB today. A classy bitch indeed."
At just 19 months old "Daphne" finished her Championship by winning Best of Breed at the NCSBTC Stafford Showdown under UK breed specialist Colin Davies. As if winning this specialty show wasn't enough she went on to take a Terrier Group 3 under Mrs. Elaine Mathis to finish out the day!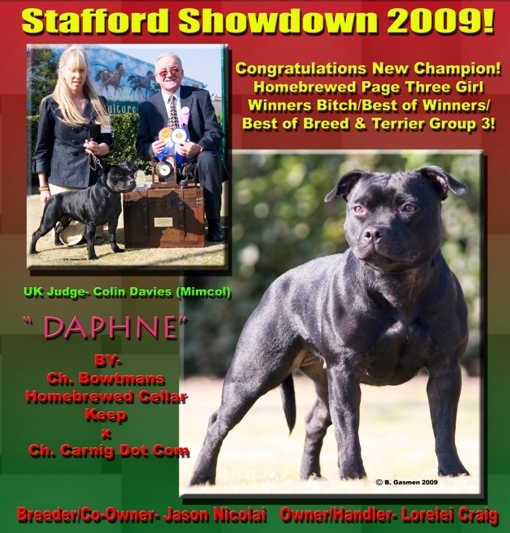 Best of Breed Win under Mr. Colin Davies ("Mimcol" - UK Breed Specialist)
Mr. Davies Comments:
"CRACKING BITCH OF THE FIRST ORDER AND FOR ME THE JEWEL IN THE CROWN OF THE DAY. Shown in super condition. Stunning head shape, neat rose ears, round dark well placed eyes, good cheek bumps, correct muzzle to skull ratio, perfect scissor bite with strong white teeth. Good front, ample bone, up on her pasterns, tight compact feet, full neck flowing into well angulated shoulders, ample spring of rib, good depth of brisket, well tucked up making her light in loins, well developed first and second thigh muscles with well angulated powerful back end with nice bend of stifle, moved with drive holding a good level top line going to and fro in a fit hard condition. A real pleasure to go over her, she would hold her own anywhere on this planet. Best of Breed and Best of Winners."
MORE JUDGES' COMMENTS:
"Excellent very well balanced youngster who has true potential, excellent head with good length of skull & correct length of muzzle with no worries of breathing problems here, good reach of neck, very clean and well angulated shoulders, true straight front, very well padded feet, excellent topline, enough rib for age, excellent rear Quarters, moves well, should do some serious winning later on..."
~Mr. Dean Cund (Chelmstaff) UK Breed Specialist
"Homebrewed Page Three Girl, liked this little girl lot, B/Brindle, nice head for age with dark round eye, neat rose ears, clean lip, correct bite, straight front, tidy feet, level top line, correct hind
quarters, coat in excellent condition, moved & handled well, pushed hard for winners bitch was happy to give her res winners bitch she has a good future."
~Mr Harry Carter (Seastaff) UK Breed Specialist
Daphne lives and plays in Penn Valley California with her co-owner / handler (and true parent) Lorelei Craig of Ciera Staffords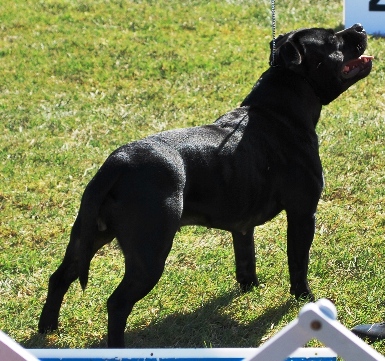 Homebrewed Page Three (Baby) Girl @ 2 weeks Two Years Later
What's in a name?
"Page Three Girl" refers to the topless models that appear quite gratuitously on the 3rd page of each edition of the British newspaper "The Sun." Media legend Rupert Murdock decided to give his readers a little eye candy and a consistently gleeful reason to purchase the paper on a regular basis. Page Three Girls have been selling the British entertainment news since 1969. Today, it's quite an honor to be named "Page Three Girl." Something reserved for the most beautiful (and confident) of ladies. Anyone who argues this is just jealous!