The Homebrewed "Fly Girls"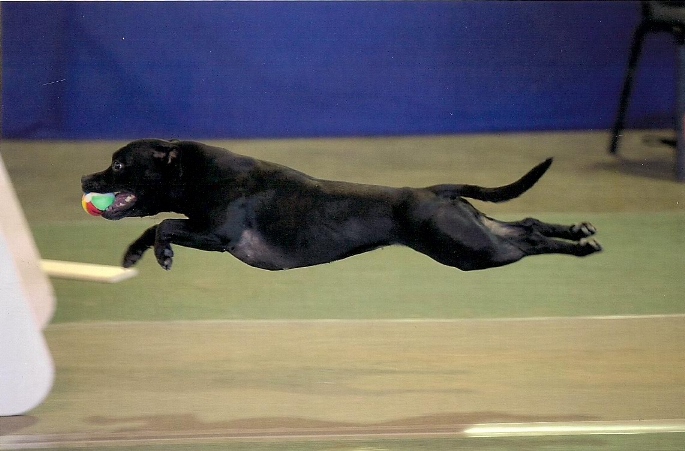 Homebrewed Velociraptor CDX, OAJ, AX, TT, FGDCH, CGC
"Olive"
Olive was the first born puppy from the very first Homebrewed litter between Rounder and Kona. Right from the start this little girl excelled in every way. She climbed out of the whelping box a week before the rest of her litter. She ran through the house playing with the adult dogs when the others were still crawling around testing the new, strange surface of the floor. Her early confidence and impish behaviors as a pup were both comical and a pain to deal with at the same time. Owner/trainer, Beth Zeiner asked for the most rambunctious, lively pup from the litter. It was a match made in heaven. Olive lives and plays in PA and is the "height dog" on the highly decorated "Hard Drive" flyball team. Her accomplishments are vast, and are only hinted to in the string of titles she carries with her name. Two time-winner of the PSBTC "Stafford Yard Dash" with clean flyball run times under 4.3 seconds and at 1/2 the natural stride of some of her competitors Olive runs with the best dogs in the sport regardless of size or breed. I've heard some say she's the fastest flyball Stafford in the world. We're not sure if that's true, but the only way to find out is to run against Hard Drive if you dare!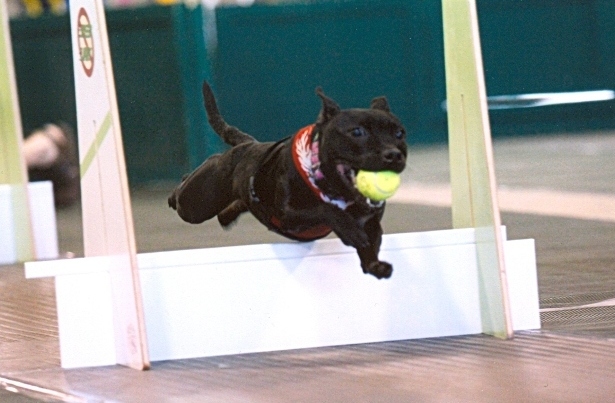 Homebrewed Bound For Glory FD, FDX, FDCH, FDCH-S, FDCH-G
"Bounder"
Bounder "the screaming Banshee" is a full sister to Olive from a repeat mating of Rounder and Kona. She's still young and has plenty of time to chase the accomplishments of her big sister, though she has some big paw prints to fill. Bounder is one dynamite little package of attitude, drive and muscle all rolled into an amazing little dog. She demands to be the center of attention everywhere so goes and with her cute gremlin like noises gets all the attention an affection of everyone she meets. Bounder is currently training with Revolution Flyball Team with her owner Lisa Skorija, is running warm ups and will soon be hitting the flyball lanes with Revolution's highly competitive multi breed team as a height dog in the near future. She has made a big splash in the flyball world and they all now yell when Bounder enters the building screaming " Bounder's in the House" she makes her presence known where ever she goes.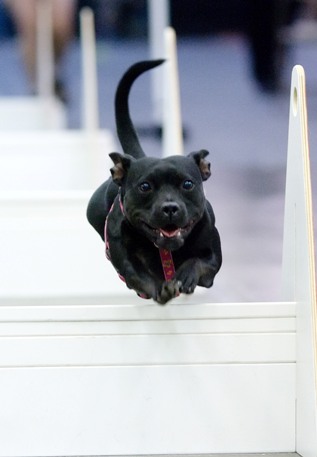 On Performance
Homebrewed Staffords are not just about pretty faces. With a philosophy of breeding healthy, sound, functionally correct Staffords that adhere to the conformation breed standard a "Foremost All Purpose Dog" naturally emerges. I admit it. I know very little about performance events like Flyball, but I do know that modern dog sports should not be taken lightly in determining the future direction of the breed. In fact, these sports can be used as a litmus test for conformation breeders to ensure that athletic functionality remains in the Staffordshire Bull Terrier.
Olive soaring toward the box
All conformation breeders, judges, and fanciers should understand that the breed truly developed from a 100% performance-based selection process. Strength, speed, agility, endurance, and drive were the anteceding components of the breed as it evolved throughout it's unsavory, yet undeniable history. Granted, many people would just like to sweep this history under the rug and create a new breed all together. To the folks in that camp I say good luck, but you'd better find a new name for your new breed.
Bounder doing her thing
Modern conformation dogs are a result of "theoretical breeding." That is to say, the selection of breeding stock is based upon historical "what ifs" or theories of what physical characteristics translate to a functional animal. Often times this process is led by subjective preferences for what the individual breeder or judge finds "impressive." Without a test for function (strength, speed, agility, endurance and drive) to ensure that the Stafford remains a Stafford the breed could be destined to become a whimsical caricature that simply follows the popular trends of the fancy - likely ending up in the Non-sporting Group, but judges be warned. Don't ask us to put our dogs on a table since hoisting one of these muscle bound bullies could cause serious back injury! No worries with a functional / balanced Stafford, though....she will get onto the table herself.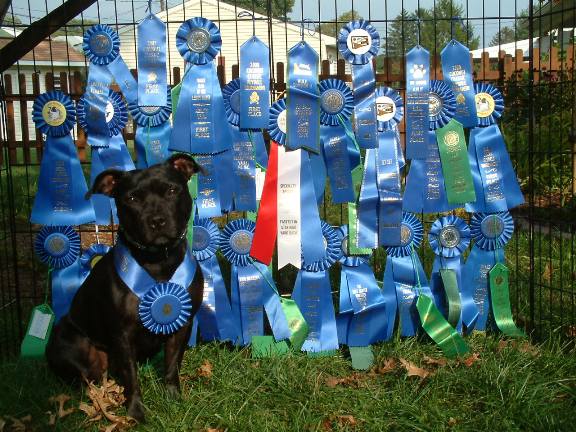 So how do we maintain the integrity of the breed and respect those elements that helped make the Stafford everything it is without regressing to "tests" like those of the Stafford's barbaric history?
I'm not sure I have the answer, but I will tell you that I have learned a lot about interpreting the conformation standard of a breed born of function from a handful of Staffords who excel at modern, universally acceptable tests of athletic performance.
Olive posing with a few of her 1st place and qualifying performance awards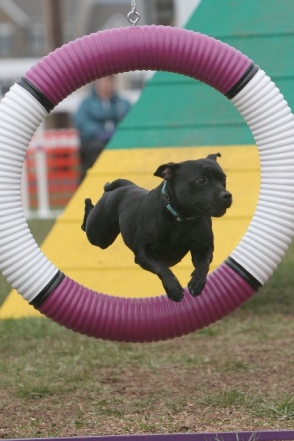 Flyball and Agility are perhaps the two fastest growing organized performance events that test a dog's functional athleticism. For a breed like the Staffordshire Bull Terrier these sports can be a great way to keep a check on soundness and help ensure we are not interpreting the conformation standard in such a way that sacrifices in the name of modern taste the most basic elements that created the Stafford. Remember, what brought the Stafford into existence was the ability to use both the mind and the body in concert to drive them through intense feats of strength, speed, agility and endurance. What better way to pay tribute to the inherently athletic nature of the Stafford than to participate in performance events?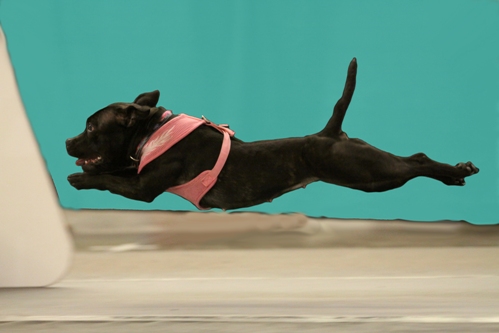 Olive breezing through the Tire Jump on an Agility Course
Bounder Flat Out" on a Flyball run
Bounder Training Video Olive Running Agility
Article and Flyball video by Beth Zeiner: The Stafford Knot - "Organized Chaos"